Complete Decongestive Therapy (CDT) for Lymphedema
Complete Decongestive Therapy (CDT) for Lymphedema is the comprehensive commonly accepted practice for addressing lymphedema care.  By initiating the four stages of care – skin care, manual lymph drainage, compression bandaging and exercises – a Certified Lymphedema Therapist (CLT) can make great strides in improving the quality of the affected limb(s) and the overall quality of a person's life.  Once the initial CDT cycle is complete, the therapist will provide instruction on how to perform these stages in a maintenance mode.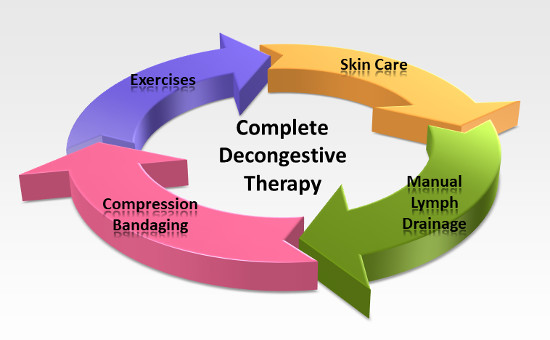 It is vital that you actively participate and learn the procedures and techniques involved in each step as you walk through them with your certified lymphedema therapist.  Not only will you get a better understanding why you are doing this activity, you will be able to perform the sequence when entering maintenance mode, when your therapist leaves and treatment now rests with you.  Do your research (like you are doing now reading this section), network with others going through similar CDT treatment and ask lots of questions of your therapist and medical professionals so you feel comfortable with the CDT process prescribed for you.
Let's take a closer look at each of these stages to see what is involved and options for care in each area.
To your improved health!