June 30, 2022
June is National Lipedema Awareness Month
Lipedema (or Lipoedema as it is spelled in the European community) is a progressive chronic disease of fat tissue that affects more than 11% of women and less than 1% of men worldwide. This adipose tissue disorder is characterized by bilateral symmetrical swelling of the legs, thighs and hips.  While the upper torso usually remains the normal size, the hips and thighs usually start enlarging disproportionately to the rest of the body.  Clinicians and patients commonly confuse Lipedema with general obesity or even Lymphedema.
How can you help raise awareness for Lipedema this June? Educate yourself, your medical support team, join a support group, and spread the word about this rarely diagnose condition!
Lipedema is often called the "painful fat syndrome" as abnormal fat cells cluster together and expand under the skin. Interstitial fluid increases between the clusters creating pain to touch or when standing.  People in the later stages often complain about pain when being touched where pockets of fat press on nerves.
Signs and Symptoms of Lipedema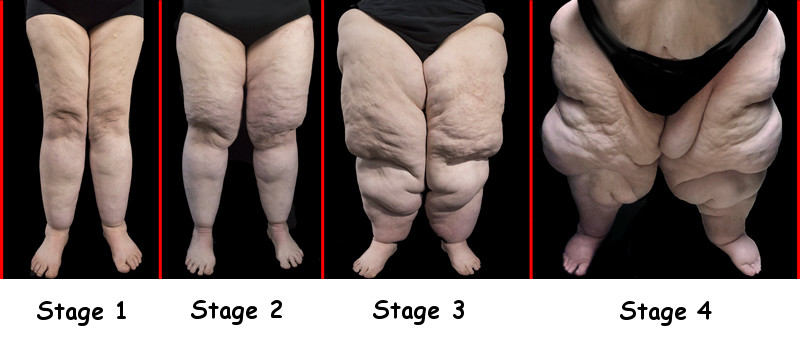 Since Lipedema is a progressive disease it is important to diagnose early and start treatment right away!  Does your body look like one of the four stages of Lipedema above?  If so, please know this is a chronic disease and is not your fault! But, you can do something to help your condition and even reverse it back to a more manageable condition!
Do you recognize these symptoms:
Lower body is disproportionate to your upper body
Symmetrical appearance of affected limbs, but the feet are still normal
Tenderness or pain in parts of you hip, thigh or leg areas (pea to fist size lipomas)
Bruising happens easily (even if you didn't bump into something)
Upper arms may be affected (and would be symmetrical)
Skin may be spongy at first then lumpy or bumpy
Diet and exercise have no effect on your lower body
Skin folds or pads may have appeared over or behind the knees or ankles
Loose joints and ligaments (particularly in the knees)
Swelling that when elevated does not provide relief (hot weather makes it worse)
Hormonal changes make things worse (puberty, childbirth, menopause)
Pant sizes keep going up, prefer to wear skirts instead
If so, make an appointment with your clinician soon to discuss diagnostic criteria and treatment plans!  It's never too late to make lifestyle changes to help treat your Lipedema condition! This includes making dietary changes, targeted exercises specifically beneficial to those with this condition and good self care.
If you are still not sure, go ahead and take a Lipedema quiz designed by Catherine Seo and her group at the Lipedema Project. 
Lipedema Body Types
In addition to the traditional four stages of Lipedema there are also several body types, known as phenotypes.  Some people have larger thighs and hips, but no ankle cuffs (cankles) while others may have thighs, lower legs, and ankle cuffs.  Sometimes upper arms, lower arms and lower abdomen area are involved too.  See the different Lipedema body types on the our Lipedema page.
I purchased a copy of the book "Lipedema – The Disease They Call Fat: A Clinician's Overview" for my doctor for education and to keep on hand should he treat people like me in the future.  Consider a copy for your doctor in addition to some great website resources listed below.
Read more about Lipedema on this site.  If you identify with Stage 4 (like me) also check our information on Lymphedema too.
Remember, it's never too late to get help and there is a whole community of people like you and me wanting to help you with your Lipedema and/or Lymphedema needs.
Personal Note: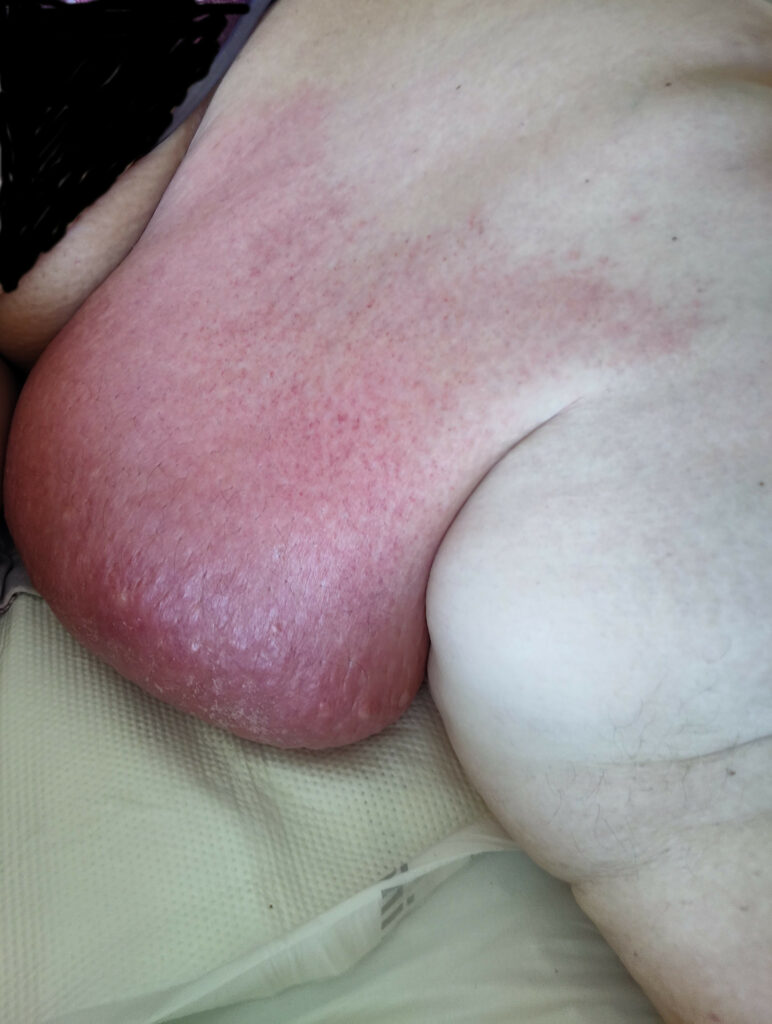 I had planned to post several blog updates this month, however, the arch nemesis of those with Lipedema paid me an unexpected visit!! It is VERY important to be vigilant on ANY skin changes. Seek immediate medical attention and evaluation for skin that turns hot and red, which may be accompanied by flu-like symptoms. It could be a case of cellulitis. This condition progresses quickly and can be fatal if left untreated. I was hospitalized for five days on IV antibiotics and another three weeks on strong oral antibiotics to eradicate the bacterial infection. The infection encompassed the large lobule on the back of my left leg just above the knee, so there was considerable pain resting on the leg.
Help spread the word that June is National Lipedema Awareness Month!
To your improved health!
---
Resources:
Sites:
Blogs:
Social Media: